Embrace the Elegance of Handcrafted Charm with Our Wood Beaded Wreaths
Welcome to the enchanting world of Sinofloral, where the festive spirit of Christmas is captured in every intricately designed wood beaded wreath.
As a premier destination for exquisite holiday decor, we specialize in creating wreaths that are not just decorations, but a celebration of craftsmanship and style.
Our collection of wood bead wreaths, each hand-assembled with care and precision, is a testament to the timeless beauty of artisanal charm.
Whether you're seeking to add a touch of elegance to your front door, looking for a centerpiece to your holiday gatherings, or in search of the perfect gift, our wreaths offer a unique blend of traditional warmth and contemporary chic.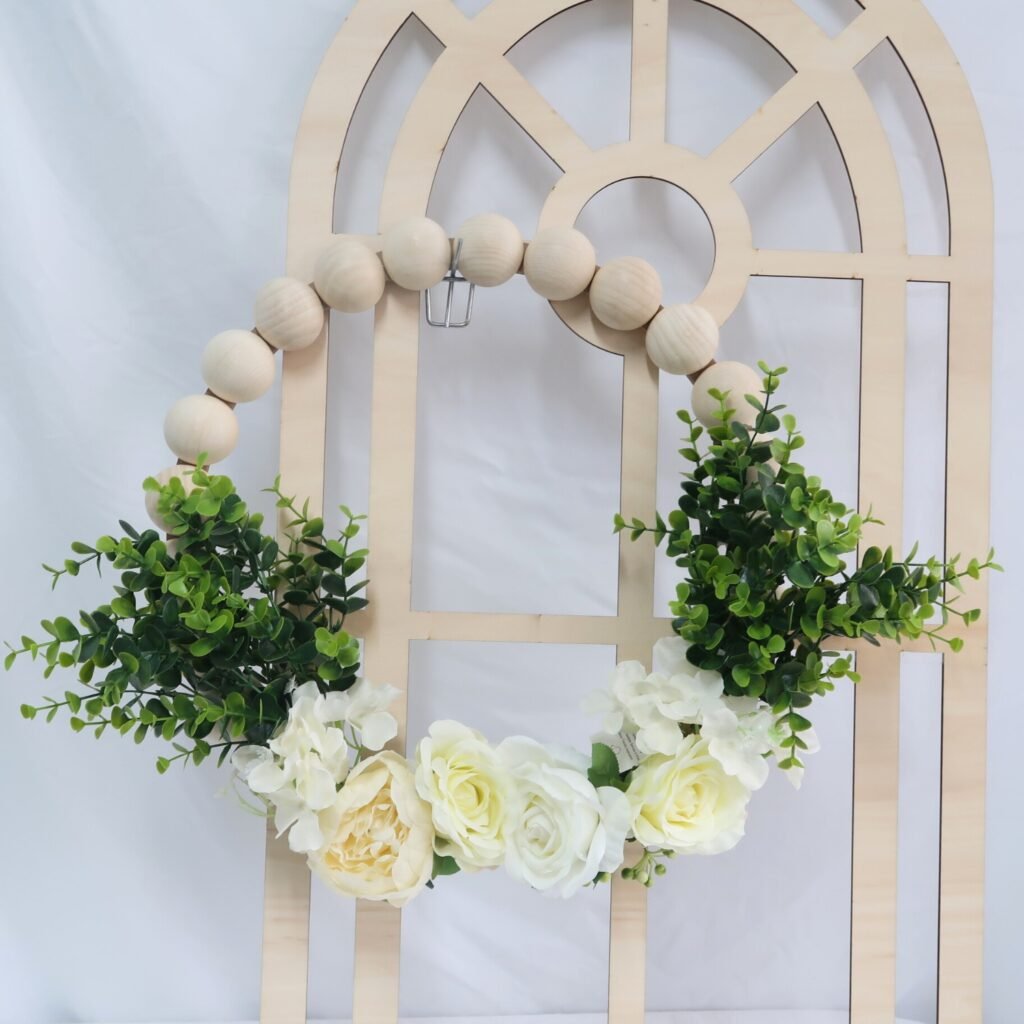 In this blog, we invite you on a journey to discover the perfect wooden beaded wreath for your festive home makeover.
At Sinofloral, we proudly offer a vast collection of wood beaded wreaths, ensuring that every customer finds the perfect piece to complement their festive decor.
And you can also explore the world of DIY creativity, get unique elements from our company, and get inspired to make your holiday season truly magical with a wreath that speaks volumes of your taste and love for finer details.
Let's turn your home into a festive wonderland with a wreath that not only embodies the spirit of Christmas but also reflects your personal style and flair.
Contact us today,browse our exclusive catalogue and let your holiday spirit flourish with a wreath that will be the envy of the neighborhood.
Discover Our Exclusive Christmas Wood Beaded Wreaths
Step into the holiday season with Sinofloral's exclusive collection of Christmas wood bead wreaths, where each wreath is a testament to our dedication to quality and style.
Our wreaths are not just decorations; they are handcrafted symbols of celebration, meticulously assembled with the finest wooden beads and lush greenery to ensure a warm, inviting welcome at your front door.
Embrace the chic and charming essence of the holidays with our wreaths that effortlessly blend traditional charm and modern elegance.
From the subtle clasp of floral wire that holds the vibrant faux flowers in place to the robust wreath form that promises durability, our creations are built to last and become a part of your festive traditions.
The perfect wreath is waiting for you, one that reflects a boho vibe or a classic holiday feel, that can be hung as a beautiful decoration on your door or above the mantel to inspire and delight.
Our wooden bead wreaths aren't just easy to hang; they are customizable, making them the perfect gift for loved ones or a personal treat to yourself.
With our wreaths, you have the freedom to add a personal touch with additional ribbons, ornaments, or even lights to make your holiday decor truly unique.
Or as a DIY wood bead enthusiast, you'll appreciate the opportunity to add your own flair, or you can choose from our pre-designed range for that instantly gorgeous home decor update.
Decorating Throughout the Seasons:
Your wood bead wreath isn't just for Christmas; it's a versatile piece that can be easily customized for every season. Replace the christmas florals with fall leaves or spring blooms to keep your home decor fresh and current.
DIY Wood Bead Wreath Crafting:
As we approach the festive season, it's time to give your home a festive makeover with a chic and charming DIY wood bead wreath.
Whether you're looking to spruce up your front door or add a boho vibe to your interior decor, our guide will help you create the perfect wreath to celebrate the holidays in style.
Creating your own wood bead wreath is an easy project that brings a touch of elegance to any space.
With simple supplies like a wreath form, floral wire, and wooden beads, you can assemble a beautiful decoration that captures the essence of Christmas. Let's dive into the process:
Step 1: Gather Your Supplies Visit your local craft stores or shop online to find the essentials:
A sturdy wreath form to provide the perfect foundation
Floral wire to securely attach decorations
An assortment of wooden beads for that pretty wreath aesthetic
Embroidery hoop if you prefer a minimalist look
A variety of faux flowers and greenery to bring life to your creation
Hot glue to ensure everything stays in place
Step 2: Assembling Your Wreath Start by wrapping your wreath form with ribbon, burlap, or greenery for a full and lush base. Then, thread your wood beads onto the floral wire and wrap this around your form. This is where you can let your creativity shine – mix in faux flowers, christmas florals, or whatever inspires you.
Celebrate Christmas with a piece from Sinofloral that will bring joy and style to your home year after year.
As we conclude our journey through the captivating world of wood beaded wreaths, we hope you've been inspired to add a touch of elegance to your holiday decor.
At Sinofloral, we're committed to bringing you a diverse and exquisite collection that caters to every style and preference.
Whether you're decorating for the festive season or searching for a special gift, our wreaths are sure to add charm and warmth to any space.
Don't wait to elevate your holiday decor! Visit our website http://www.sinofloral.net now to explore our extensive range of wood beaded wreaths and find the perfect match for your home.
Celebrate this festive season in style with a beautiful, handcrafted wreath from Sinofloral.