Introduction
The holiday season is around the corner, and Christmas trees are about to take center stage.
If you're a wholesaler looking to boost your holiday sales, you're in the right place. Discover the must-have decorations that will make any Christmas tree a showstopper.
Traditional Style
Classic baubles and angel or star toppers dominate this style, offering a timeless and versatile look.
Whimsical Style
Themed ornaments like snowflakes, Santas, and even unicorns can add a playful and unique flair to any tree.
Rustic Style
Wooden ornaments and berry clusters bring a touch of natural elegance, ideal for rustic or country-themed trees.
Luxurious Style
Glass ornaments and beaded garlands bring sophistication and a touch of luxury to the tree.
Modern Style
Metal ornaments in sleek designs and finishes like silver, gold, and bronze offer a contemporary aesthetic.
Natural Touches
Berry Branches & Garlands
Artificial berries add a rustic feel and a pop of color, making them a versatile addition to any tree.
Floral Elegance
Known for their vibrant red and green colors, poinsettias bring a floral touch that's synonymous with the holiday season.
Add Some Sparkle
From glittered twigs to glitter pine branches, these additions create a fuller, more luxurious look while adding a dash of sparkle.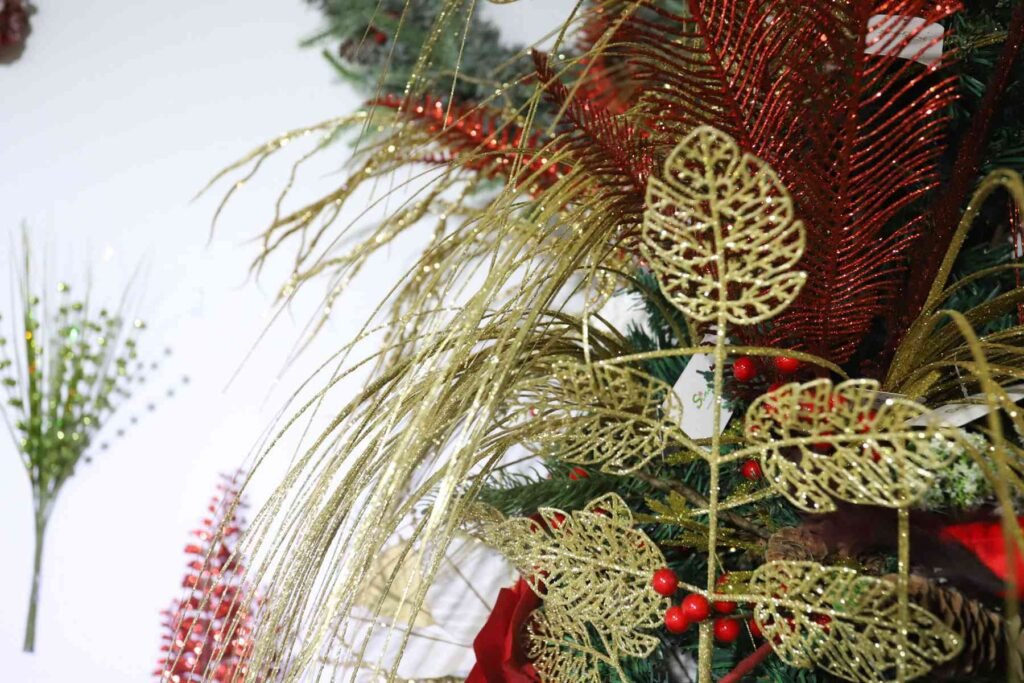 Garlands & Tinsel
Beaded & Ribbon Garlands
Choose from elegant beaded garlands or textured ribbon garlands in traditional Christmas colors for added depth and richness.
Tinsel
A classic choice for those who love sparkle, tinsel catches light beautifully, adding a festive shimmer.
Conclusion
The right decorations can transform any Christmas tree into a masterpiece. As a wholesaler, offering a diverse range of high-quality decorations will not only satisfy your customers but also drive your holiday sales.
At our Sinofloral, we specialize in top-tier Christmas decorations perfect for wholesalers. From classic to unique, we've got something for every market. Contact us today to secure your bulk orders and make this holiday season a resounding success!Don`t hesitate to contact us!