When the holiday season approaches, the search for the perfect Christmas tree and complementary Christmas tree decorations begins.
A beautifully decorated home with vibrant holiday decor becomes a focal point for spreading holiday cheer.
Central to this festive display are poinsettias, a quintessential Christmas flower that embodies the spirit of the season.
As a leading exporter of Christmas decorations, we're here to tell you why these branches are the must-have display item for Christmas 2023.
For those eager to explore the vast world of artificial branches and Christmas decorations, our website is a treasure trove of options.
At https://sinofloral.net, we've curated a collection that caters to every aesthetic and preference.
Contact us and discover our catalogue without any hesitation now,and you will get a list of the top 10 colorful artificial poinsettias that promise to elevate your Christmas decor display, ensuring your home sparkles with Christmas cheer.
1.Classic Red Velvet Artificial Poinsettias
No holiday decorations are complete without the inclusion of the classic red poinsettia.
These lush artificial poinsettia flowers, with their deep red petals and dark green leaves, bring a timeless elegance to any Christmas decor, inviting a classic Christmas vibe into your home.
2.Snow-Kissed White Poinsettias
Imagine the serene beauty of a white Christmas with our snow-kissed artificial poinsettia flowers accenting your holiday decorations.
They provide a harmonious contrast against the rich greens of Christmas trees and serve as a symbol of the peaceful holiday spirit.
3.Lush Burgundy Poinsettias
Enhance your Christmas decor with the luxurious touch of lush burgundy poinsettias.
These artificial poinsettia flowers are reminiscent of the deep red flowers of the holiday season, perfect for creating a warm, inviting atmosphere during your holiday celebrations.
4.Vibrant Pink Poinsettias
For those looking to add a unique twist to their holiday decor, our vibrant pink poinsettias are a stunning choice.
Whether you're coordinating them with a pink Christmas tree or using them to add a pop of color to traditional Christmas decorations, these poinsettias embody holiday cheer in every petal.
5.Glimmering Gold Poinsettias
Our glimmering gold poinsettias are like little bursts of Christmas cheer, lending a festive glow to your holiday decor.
They complement any holiday theme, from a silver and gold festive theme to a tree full of colorful Christmas ornaments.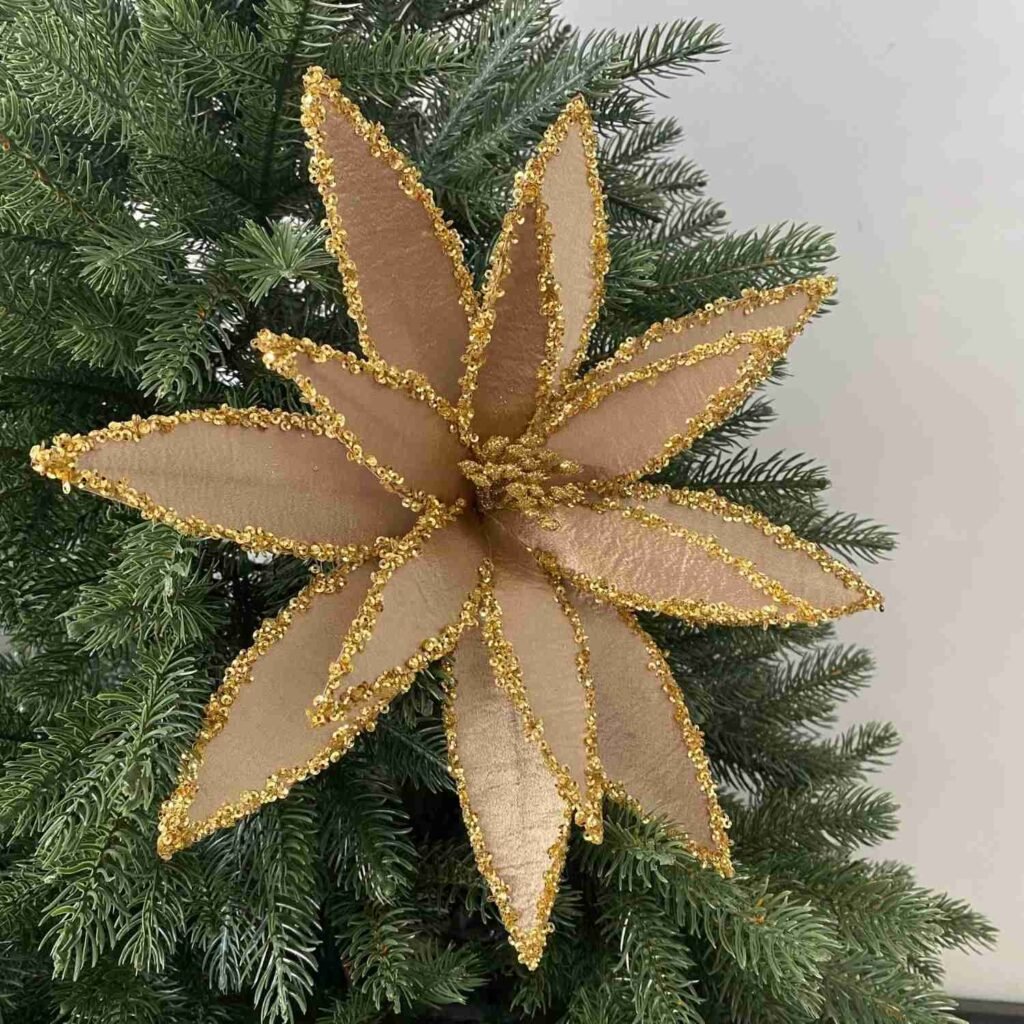 6.Verdant Green Poinsettias
Introduce a touch of nature's festive touch with verdant green poinsettias.
These artificial poinsettia flowers add a refreshing pop of green to your holiday decorations, embodying the lushness of the holiday season.
7.Champagne Elegance Poinsettias
The subtle beauty of our champagne elegance poinsettias brings a sophisticated air to your Christmas decor.
Perfect for a refined holiday decor theme, these poinsettias pair wonderfully with gold ribbon and glitter for a complete festive display.
8.Bold Blue Poinsettias
Dare to be different with our bold blue poinsettias.
These artificial poinsettia flowers make a statement in any holiday decorations ensemble, adding a unique and elegant twist to the traditional holiday decor palette.
9.Glittery Rainbow Poinsettias
For a festive display that truly captures the holiday spirit, our glittery rainbow poinsettias are the perfect addition to your Christmas tree decorations.
Their vibrant colors and glitter accents reflect the joy and festivity of the holiday season.
10.Regal Purple Poinsettias
Complete your Christmas decorations with the royal hues of our regal purple poinsettias.
These flowers add a touch of luxury to your holiday decor and are sure to draw attention as a centerpiece or when used in a festive wreath.
With the holiday season in full swing, decorating with these top artificial poinsettias can enhance the festive atmosphere in your home.
From being the star of your Christmas tree decorations to accenting your holiday table settings, poinsettias are versatile in spreading Christmas cheer.
They're also perfect for DIY holiday crafts, from creating poinsettia wreaths to embellishing gift wrappings.
As you look forward to celebrating the holidays, remember that artificial poinsettia flowers offer an enduring way to decorate.
Not only do they bring holiday cheer into your home, but they're also a budget-friendly and long-lasting option compared to their live counterparts.
Visit your local craft store or browse our extensive online collection to find the poinsettia that fits your holiday decor style perfectly.
Let these top 10 colorful artificial poinsettias take the festive lead this holiday season and watch as your home becomes a wonderland of holiday cheer.