Introduction
In the vibrant realm of Christmas decorations, Sinofloral emerges as a beacon of innovation and quality, specializing in the export of premium artificial Christmas decorations from China. We are dedicated to offering a diverse and exquisite range of products, coupled with an unwavering commitment to customer satisfaction. In this post, we will unveil the magical journey our foreign customers embark upon, from the initial interaction to the immersive experience in our enchanting showroom, highlighting our meticulous approach to customer reception and service.
Initial Contact and Communication
Our journey with our customers begins with the first interaction. We utilize various communication channels, including emails, phone calls, and social media, to understand our customers' needs and preferences. Our multilingual staff is always ready to assist, ensuring clear and effective communication.So feel free to contact us right now!
Personalized Assistance
We assign a dedicated representative to each customer. This representative is responsible for understanding the customer's requirements, answering queries, and providing personalized solutions, ensuring a smooth and tailored purchasing experience.
Transparent Quotations
We believe in transparency and integrity. Our customers receive detailed quotations, outlining the cost, payment terms, and delivery details, eliminating any hidden charges or surprises.
Customized Product Selection
Sinofloral offers a diverse range of Christmas artificial decorations. Customers can explore our extensive catalog and select products that align with their aesthetic preferences and budget. We also offer customization options to meet specific design requirements.
A Journey through Our Enchanting Showroom
– Entering a World of Festive Charm: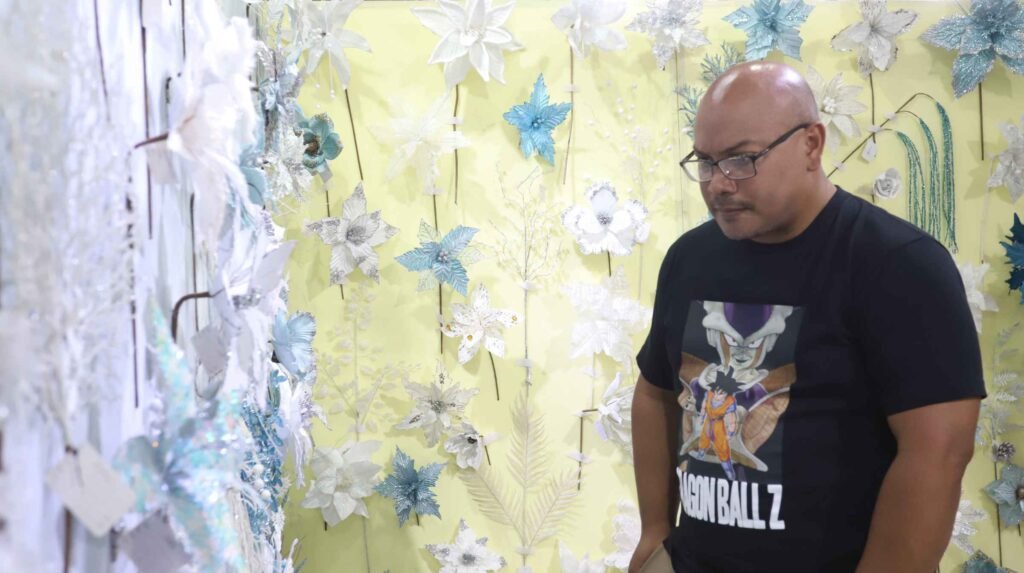 Upon arrival at our showroom, our esteemed foreign customers are welcomed into a realm of festive enchantment, filled with the subtle scent of pine and the gentle sounds of Christmas carols.
– Curated Spaces and Diverse Styles:
Our showroom is meticulously organized, with each section representing a different theme or style, allowing customers to immerse themselves in the unique aesthetic of each decorative style.
– Knowledgeable Assistance and Personal Interaction:
Our attentive and multilingual staff are stationed throughout the showroom, ready to offer insights, share the stories behind each piece, and answer any queries.
– Experiencing the Craftsmanship:
Customers are encouraged to touch and feel the products, understanding the quality and the craftsmanship that go into creating each piece.
– Customization and Selection:
Our design consultants work closely with customers to understand their specific needs and preferences, offering suggestions and modifications to ensure the final product is a true reflection of the customer's vision.
– Concluding the Visit:
As our customers conclude their visit, we ensure that their selections are noted with precision, and any customizations are clearly documented.
– Building Long-lasting Relationships:
The journey that begins in our showroom goes beyond a mere transaction. It's the starting point of a long-lasting relationship between Sinofloral and our valued customers.
Factory Visits
We warmly welcome our foreign customers to visit our state-of-the-art factories in China. These visits allow customers to witness our production processes, quality control measures, and the dedication and craftsmanship of our skilled artisans.
Sampling and Quality Assurance
Before finalizing any order, we provide our customers with product samples, allowing them to assess the quality and design of our decorations. Our quality assurance team meticulously inspects each product to ensure it meets international standards.
Logistics and Shipping
We coordinate with reliable logistics partners to ensure timely and safe delivery of our products. Our team keeps customers informed about the shipping progress and assists with customs clearance and documentation.
After-Sales Support
Our relationship with our customers doesn't end with the sale. We offer comprehensive after-sales support, addressing any concerns or feedback and ensuring complete customer satisfaction.
Conclusion
At Sinofloral, we are passionate about creating enchanting festive experiences for our valued foreign customers. From the initial contact to the immersive journey through our showroom, and beyond, we are dedicated to ensuring a seamless, joyful, and memorable experience, making us the preferred choice for premium Christmas artificial decorations globally.
Embark on a festive journey with Sinofloral and explore our enchanting range of Christmas artificial decorations. Contact us today and experience the warmth, creativity, and excellence that we bring to the festive season!