Introduction:Setting the Stage for Christmas Decor in 2023
As we approach the festive season, it's crucial for wholesalers to stay ahead of the curve in understanding what's trending in the world of Christmas decor.
This blog post focuses on the artificial Christmas tabletop decor for the Christmas season of 2023.
Want a festive home this holiday season? It's easy.
Start with some Christmas tabletop decor for your dining area.
Add hanging ornaments on your Christmas tree for a little sparkle.
Place some Christmas flowers as a centerpiece to brighten up the table.
Hang a Christmas wreath or garland over your mantelpieces.
Finally, scatter a few Christmas picks on shelves or in your Christmas tree for extra flair.
Together, these simple touches make your home holiday-ready.
Each one is indispensable,and Christmas tabletop decor plays an important role in it.
Contact us today to learn more about our 2023 product line-up and how we can help you succeed in the upcoming festive season.
Diverse Styles and Creative Ideas
The beauty of artificial Christmas tabletop decor lies in its versatility and the myriad of styles it offers.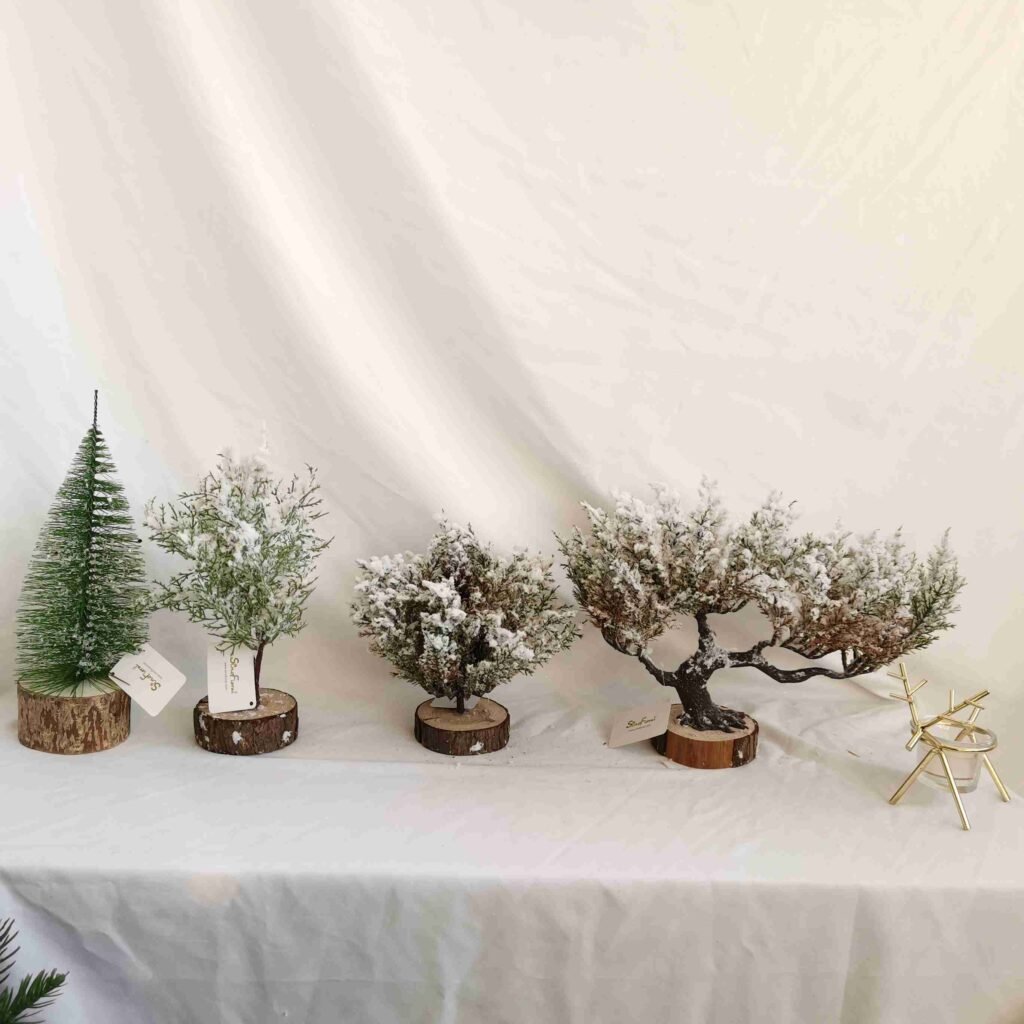 The variety of styles in artificial Christmas tabletop decor is not just about aesthetic appeal; it also plays a significant role in market growth.
Different styles attract different customer segments, thereby expanding the market size and contributing to market movements.
Wholesalers who diversify their offerings to include a range of styles are more likely to see an increase in market share and revenue forecast.
From traditional Christmas themes featuring red and green to modern takes with pale pink and faux fur.
There's something for everyone.
These diverse styles are perfect for various festive celebrations, making every event unique and memorable.
Some fantastic ideas for home decoration include:
Classic Elegance: Think mini Christmas tree tabletop decorations with a classic red and green color combination that will sure to bring a touch of festive cheer to your home this holiday season.
Rustic Charm: Incorporate paper snowflakes, wrapping paper, and wooden elements to create a cozy, down-to-earth vibe.
The rustic farmhouse style is all about creating a cozy, homey atmosphere.
Expect to see materials like wood, burlap, and paper snowflakes.
This style pairs well with traditional Christmas trees and offers a warm, inviting vibe.
For those who love the charm of Christmas past, vintage glamour is a style that never fades.
Tech-Savvy: As emerging technologies continue to influence market trends, tech-infused decor is gaining popularity.
Opt for Christmas tree world products that come with built-in lighting and sound effects, controllable via a smartphone app.
Imagine tabletop decors that come with built-in Bluetooth speakers or LED lights that sync with your favorite Christmas tunes.
Minimalist: In contrast to the opulence of vintage glamour, modern minimalism focuses on the 'less is more' philosophy. This style often features monochromatic color schemes, geometric shapes, and a focus on quality materials like glass and metal.
Whimsical Wonderland:Capture the magic of a winter wonderland with decor that features snowflakes, icicles, and snowy landscapes.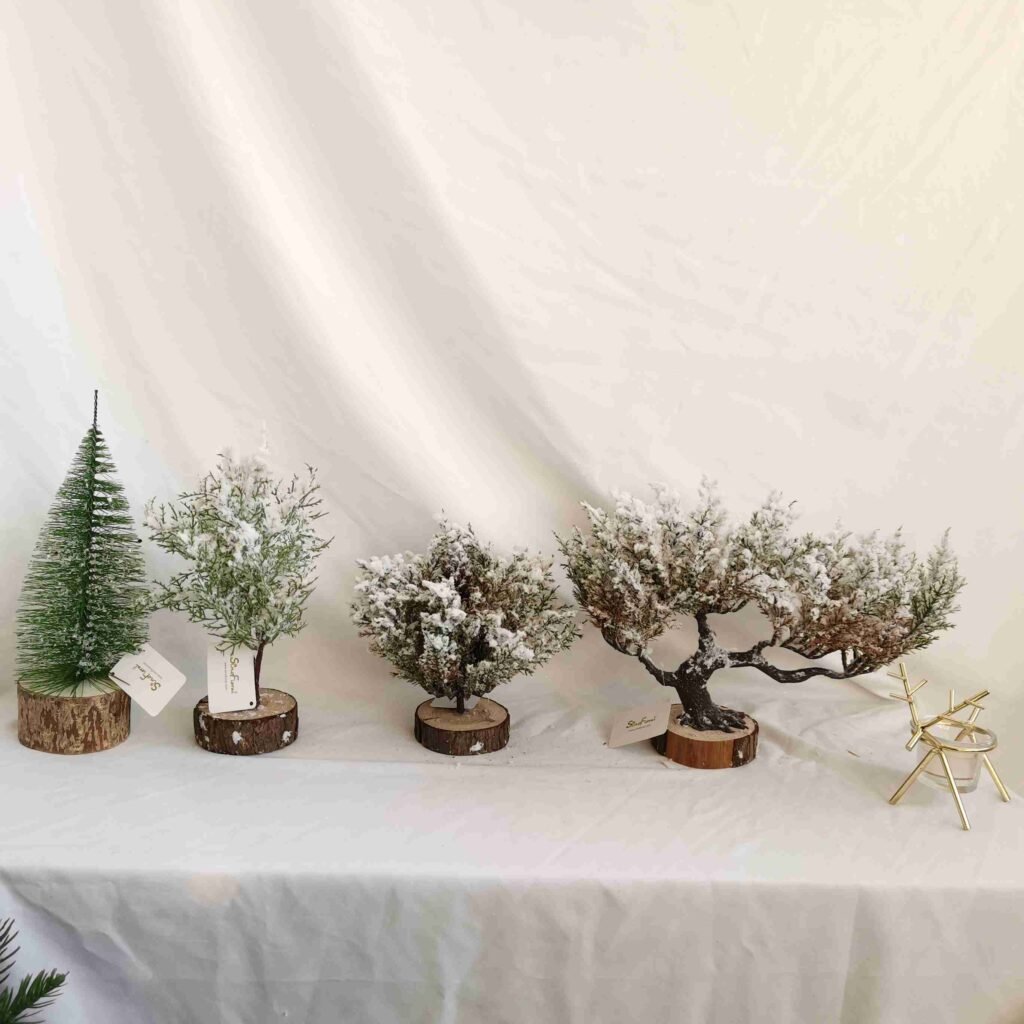 This style often incorporates flocked trees and faux fur to create a dreamy, winter-inspired setting.
Eclectic Mix:For those who don't want to stick to one particular style, the eclectic mix offers the best of all worlds.
Combine elements from different styles to create a unique, personalized look.
This is where customization really shines, allowing wholesalers to offer a wide range of options to their customers.
Sustainability and Customization
One of the most significant market dynamics is the growing demand for sustainable products.
Wholesalers are increasingly seeking eco-friendly Christmas trees and Christmas decorations that not only look good but also have a minimal environmental impact.
Our line of artificial Christmas tabletop decor is designed with sustainability in mind, using raw materials that are both durable and recyclable.
And also,today's consumers want Christmas decor that is unique and customizable.
This trend has trickled down to the B2B sector, where wholesalers are looking for products that can be easily customized to meet the specific needs of their clientele.
Our company offers a wide range of customization options,thereby increasing our market share in the competitive landscape.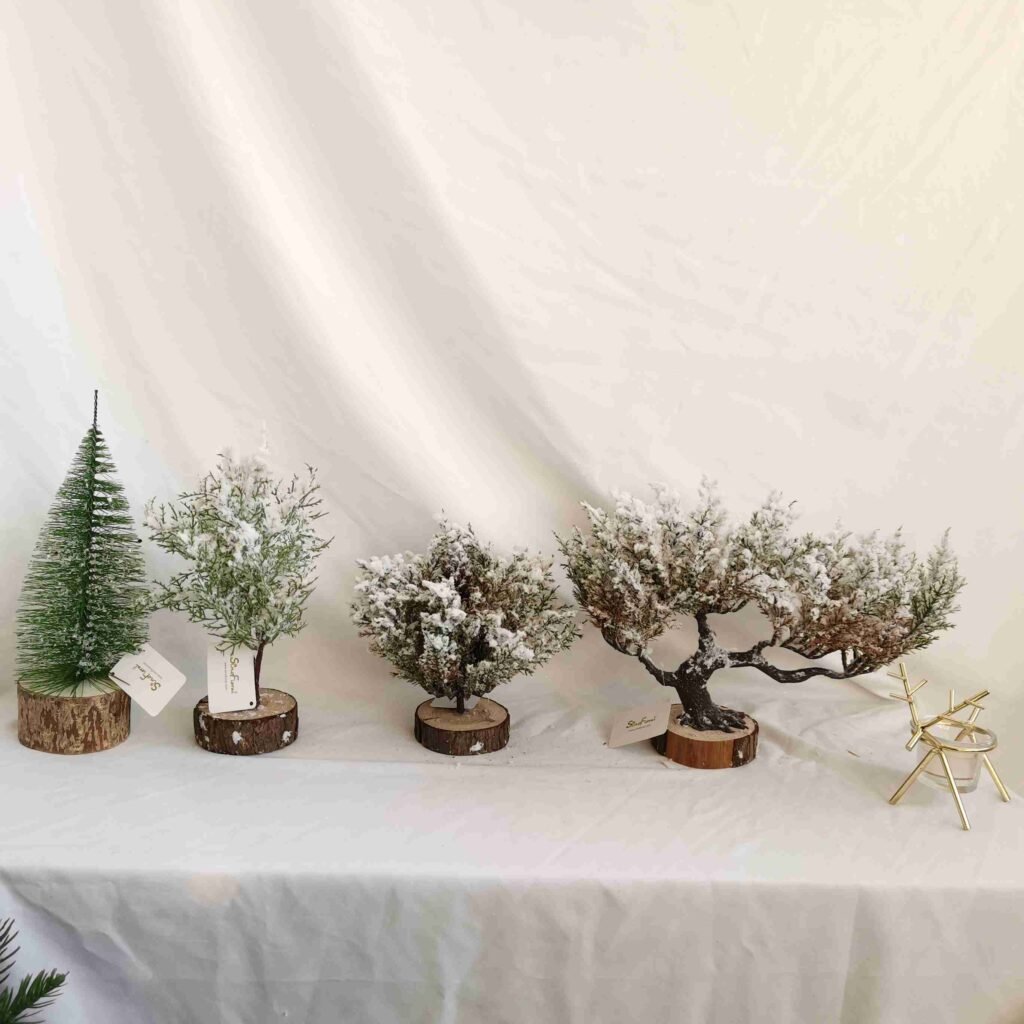 Our Promise on Quality
Wholesalers are becoming more discerning in their choices, focusing on quality over quantity.
This trend is particularly relevant in the artificial Christmas tabletop decor industry, where products need to last multiple holiday seasons.
Our commitment to quality assurance ensures that you're investing in products that are not only trendy but also durable, thereby increasing the gross margin for both parties.
Timely Delivery
Given the disruptions in global supply chains over the past few years, wholesalers are keen on partnering with reliable suppliers.
Our strategic location and robust logistics network ensure timely delivery, making us a trustworthy partner for your business needs.
Conclusion:The Future of Christmas Decor and Christmas Trees
The artificial Christmas tabletop decor industry is evolving, influenced by various key factors such as sustainability, customization, technology integration, and quality focus.
As leading exporter in this field, we're committed to staying ahead of these trends to offer products that meet the ever-changing demands of the market.
For wholesalers looking to diversify their product offerings and stay competitive, now is the perfect time to invest in artificial Christmas tabletop decor that aligns with these industry trends.
Ready to Elevate Your Christmas Decor Offerings? Let's Talk!
The future of festive is here, and it's more exciting than ever.
If you're a wholesaler looking to diversify your product range with high-quality, sustainable, and innovative artificial Christmas tabletop decor, then you've come to the right place.
Don't miss out on the opportunity to be a part of this rapidly growing market.
Contact us today to discuss your needs, explore our 2023 product line-up, and find out how we can help you achieve success in the upcoming Christmas season.