Introduction
The Christmas season is a magical time filled with Christmas cheer and festive celebrations.
The holiday season is when we bring out our cherished Christmas decorations and Christmas ornaments to turn our homes into a winter wonderland, creating a warm and festive atmosphere.
In this ambiance, diverse artificial berry decorations play a pivotal role in adding visual interest and elevating the Christmas decor.
As a premier exporter of Christmas artificial poinsettia decorations in China, we specialize in offering a variety of decorations that are essential for creating a stunning holiday scene.Contact us to learn more without hesitation!
Types of Artificial Berry Decorations
Our meticulously crafted artificial berry wreaths are a symbol of eternal life and growth, making them a staple holiday wreath for your front door or front porch, adding a festive touch to your entrance.
And draping a lush artificial berry garland around your doorway or staircase can add a touch of elegance and warmth, creating a welcoming holiday scene and adding holiday cheer.
Enrich your dining room table or coffee table with our assortment of tabletop décor, making it the focal point of your festive dining setting and adding elegant decoration.
Artificial berry picks are versatile embellishments that can be added to Christmas trees, vases, or centerpieces, enhancing your holiday decorating.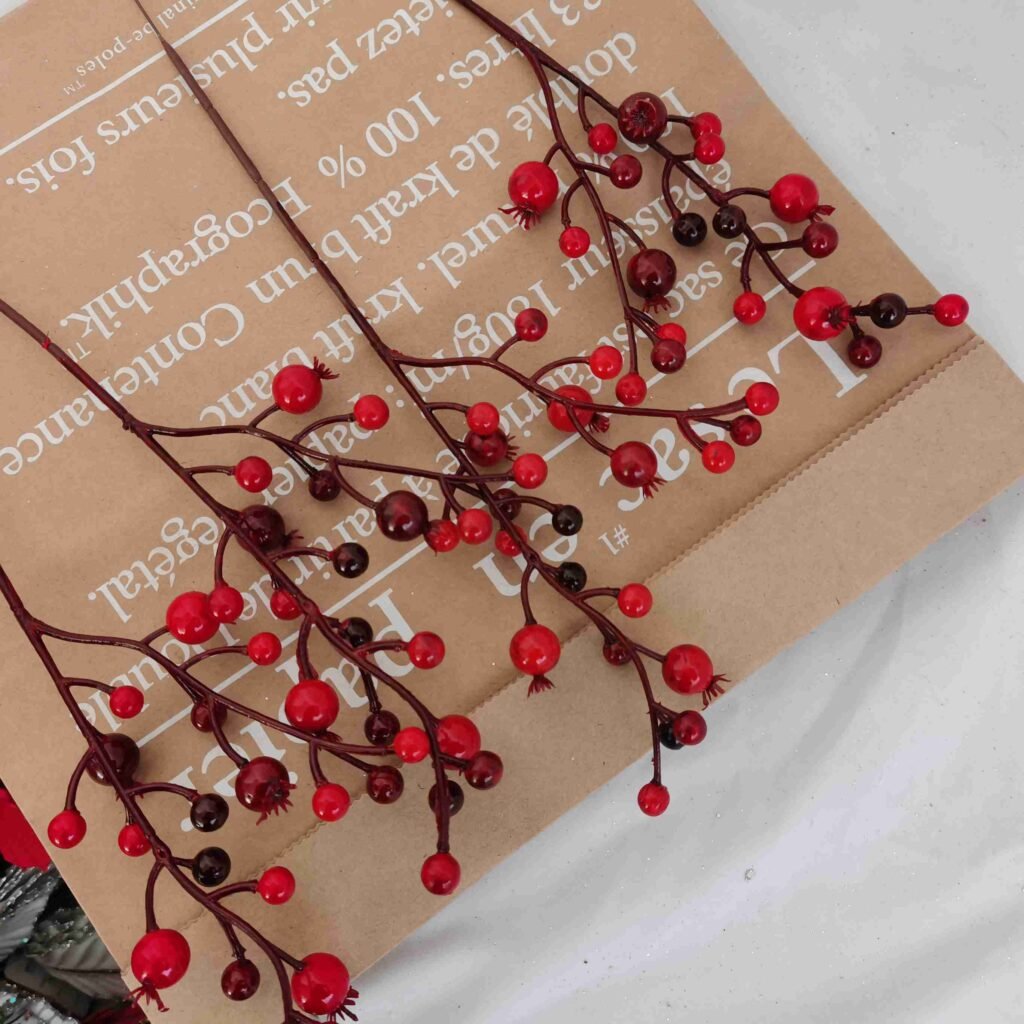 Exploring the Color Palette of Berries
Artificial berry decorations come in a vibrant array of colors, each bringing a unique aesthetic to your Christmas decor:
1.Red Berries:
Symbolizing joy and happiness, red berries are a classic choice, adding a traditional touch to your decorations.
2.White Berries:
Representing purity and peace, white berries offer a serene and tranquil vibe, complementing a winter wonderland theme.
3.Blue Berries:
Conveying trust and loyalty, blue berries introduce a cool and calming ambiance, ideal for a modern and chic look.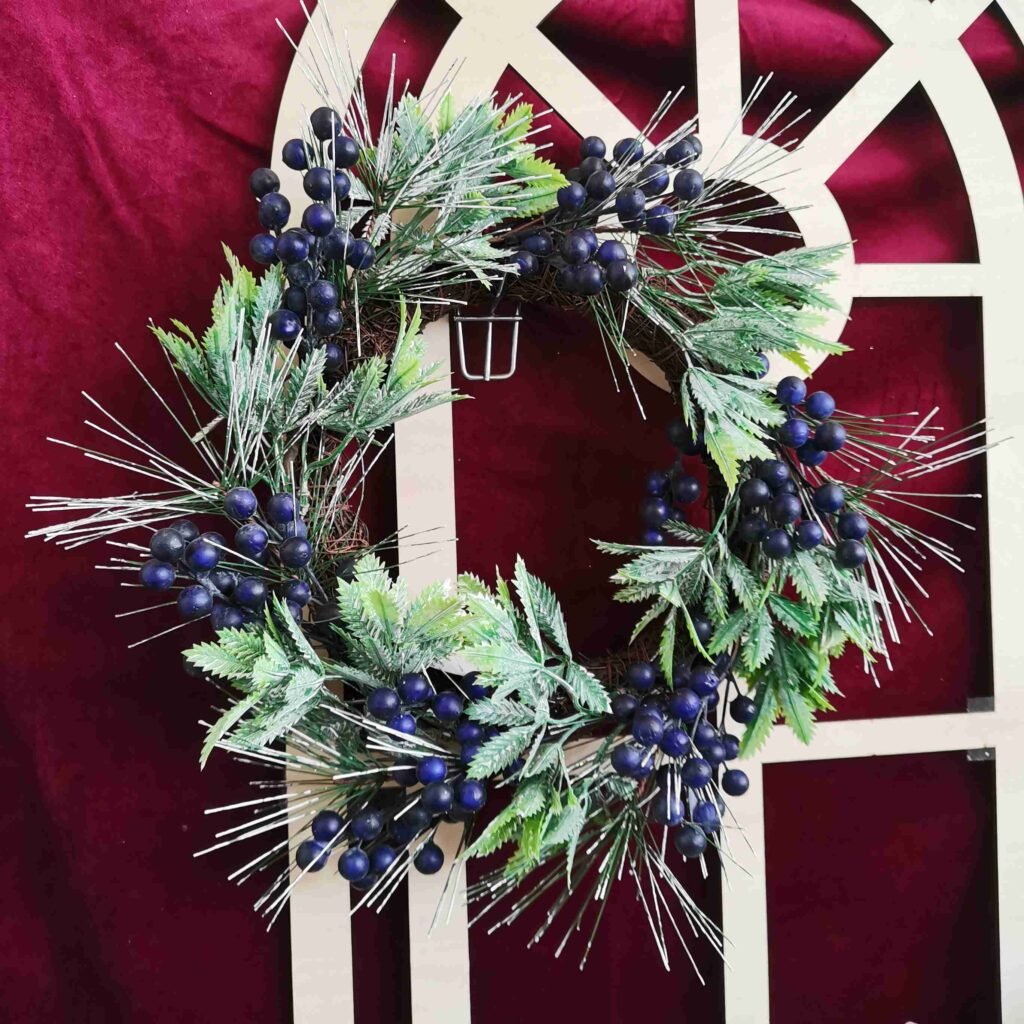 4.Black Berries:
Denoting elegance and sophistication, black berries provide a bold and dramatic effect, perfect for a luxurious setting.
5.Gold Berries:
Symbolizing wealth and grandeur, gold berries add a lavish and opulent touch, enhancing the festive glamour.
6.Silver Berries:
Representing grace and elegance, silver berries offer a sleek and stylish look, complementing a contemporary decor theme.
Combining Decoration Elements
Artificial berries can be combined with various decoration elements to create a harmonious and cohesive look. Here are some elements that pair well with artificial berries:
1.Fresh Greenery:
The lushness of fresh greenery complements the vibrancy of berries, creating a balanced and natural look.
2.Cotton:
The softness of cotton contrasts beautifully with the boldness of berries, adding a cozy and warm touch to the decor.
3.Pinecone:
The rustic appeal of pinecones blends seamlessly with berries, introducing a woodland and earthy vibe.
The festive sparkle of Christmas ornaments enhances the richness of berries, adding a joyful and celebratory feel.
Why Diverse Artificial Berry Decorations are a Must-Have for Your Christmas Display
1. Variety and Versatility:
Artificial berry decorations, including Christmas wreaths, tree decorations, and vintage ornaments, offer endless creative possibilities.
Whether you are aiming for a traditional or contemporary aesthetic, our collection caters to all tastes and preferences, allowing you to decorate your Christmas tree with elegance and add festive cheer to your holiday decor.
2. Long-lasting and Durable:
Artificial berry decorations, including Christmas ornaments and tree toppers, retain their vibrancy and freshness throughout the Christmas season, ensuring your holiday decorating remains splendid year after year.
3. Cost-Effective and Sustainable:
Being reusable and low-maintenance, artificial berry decorations are a sustainable and economical solution, allowing you to enjoy splendid holiday decorations and Christmas tree decorations without compromising on quality.
4. Safe and Hypoallergenic:
Artificial berry decorations are free from allergens and do not attract pests, ensuring a safe and pleasant environment during your Christmas celebrations.
5. Global Appeal:
Our diverse and trendy range of artificial berry decorations is designed to resonate with international customers, reflecting a fusion of various cultures and styles, and making them a stunning addition to any holiday décor.
Revolutionizing Christmas Decorations
Christmas decorations are pivotal in spreading holiday cheer and creating a festive environment. Incorporating diverse artificial berry decorations can revolutionize the traditional decor ideas, adding a modern and elegant touch to the holiday season.
1.Christmas Tree Elegance:
The Christmas tree is the quintessential symbol of the holiday season, bringing joy and warmth to homes. Decorating it with diverse artificial berry decorations can add a layer of elegance and sophistication, making it the perfect centerpiece of your holiday decor.
2.Innovative Christmas Tree Decorations:
Christmas tree decorations are evolving with innovative designs and styles. Our diverse range of artificial berry decorations offers unique and stylish options, allowing you to create a trendy and contemporary Christmas tree that is a visual delight.
Conclusion
Diverse artificial berry decorations are indispensable for creating an enchanting Christmas look. They offer a plethora of decorating options, ensuring durability, safety, and global appeal.
Our commitment as a leading exporter of Christmas artificial poinsettia decorations in China is to provide our global clientele with superior quality and innovative designs, enhancing their festive experience and adding a festive touch to their holiday decor.
The holiday season is a time to embrace joy and togetherness.
By integrating diverse artificial berry decorations into your holiday decor, you can create a harmonious and welcoming atmosphere that resonates with the spirit of Christmas.
Embark on a festive decorating journey with our exquisite range of artificial berry decorations. Decorate your Christmas trees and front porch with our timeless and enchanting creations.
Contact us to explore our diverse collection and elevate your Christmas décor with our premium products, and make your home the center stage of festive atmosphere this holiday season.