As we march towards the holiday season, businesses across the world are devising creative strategies to maximize their holiday cheer and profits. The tried and tested method of combining Christmas trees and poinsettias has been a holiday decorating favorite, promising high sales and a wow factor that leaves customers impressed.
Deck the Halls with Poinsettias and Christmas Trees
In recent years, the pairing of Christmas trees and poinsettias has gained immense popularity. The poinsettias, with their radiant varying colors, perfectly complement the Christmas trees, creating a visually stunning spectacle that brings holiday cheer to any space.
When you hang beautifully decorated ornaments on your tree and complement it with a display of fresh poinsettias on the ground or on tree stands, the combination is sure to create a fun and interesting art of holiday decorating that's become a tradition for many families in this season.
Unleashing the Magic: Pairing Christmas Trees and Poinsettias
Nothing spells Christmas more than a beautifully decorated Christmas tree surrounded by vibrant poinsettias. This dynamic duo has the potential to transform your holiday decor from average to stunning, making it an instant hit among customers.
Start by selecting a live tree that suits your space and style. Once it stands tall and proud on a sturdy tree stand, decorate it with an interesting mix of ornaments, lights, and pine cones. But, the magic truly begins when you introduce poinsettias into the picture.
Imagine the wow factor of lush green tree branches adorned with twinkling lights and radiant red poinsettias. Place potted poinsettias around the base of your Christmas tree, creating a ring of vibrant color, or hang smaller potted poinsettias on the branches for an innovative touch.
This combination not only maximizes the visual appeal of your display but also lends a traditional and sweet charm to your holiday decor, helping you stand out in the town. So this season, don't just stick to the traditional; let your creative juices flow and explore the magic of pairing Christmas trees and poinsettias. After all, it's the most wonderful time of the year to wow your customers and fill your space with the spirit of Christmas!
Christmas Wreaths: An Addition to the Festive Decor
One cannot discuss holiday decorating without mentioning Christmas wreaths. Made from the branches of live trees and decorated with pine cones, ribbons, and most importantly,our Christmas artificial poinsettias, these wreaths can be the cherry on top of your festive decorations. Hang them in a prominent corner of your home to add an extra wow factor to your holiday decor.
Adding the Christmas Touch to Your Home
Mix the traditional and the new by adding beautifully decorated Christmas wreaths to your holiday decorations. Create a stand-out centerpiece by filling a table with a combination of pine cones, ornaments, and baby poinsettias. Adding varying colors of lights can provide a warm glow, enhancing the winter charm in your home this December.
Embrace the Holiday Season with Poinsettias and Christmas Trees
Over the last few years, the trend of using poinsettias and Christmas trees for holiday decorating has seen a significant increase. Customers love the sweet charm of these plants and are increasingly looking for ways to include them in their holiday decor.
Don't hesitate to mix things up by using Christmas trees and poinsettias in new and fun ways. From traditional tree stands to ground displays, there are a plethora of ways you can present these holiday staples in your space.
Sell the Holiday Spirit with Our Wholesale Offerings
As a wholesaler, you can expect high sales during the holiday season. With our vast array of Christmas poinsettias, ornaments and Christmas wreaths, you'll have a one-stop solution for all your customers' holiday decorating needs.
Add the wow factor to your wholesale offerings and take your holiday sales to the next level with our products. Visit our online store now (www.sinofloral.net) and contact us, and rest assured that your customers will thank you for the beautiful holiday cheer you bring to their homes this season.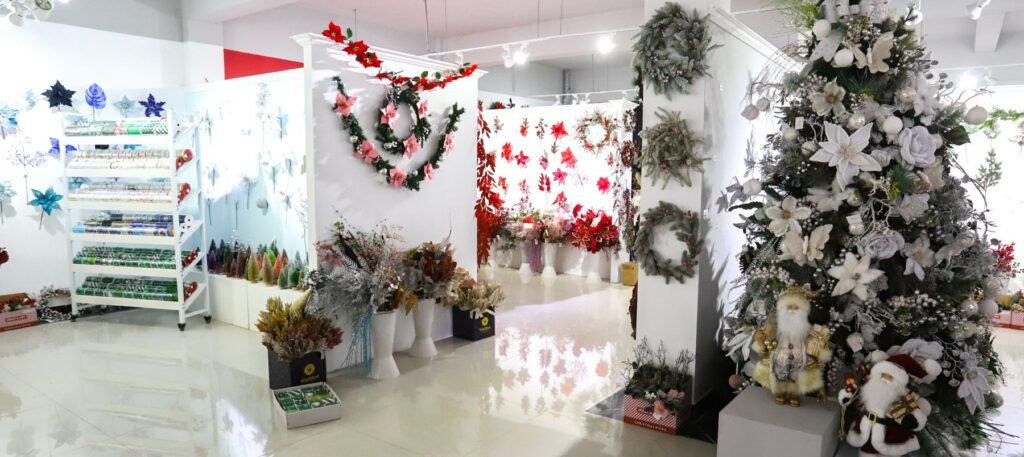 Remember, the holiday season is not just about boosting profits; it's about creating fun, spreading holiday cheer, and making the space warm and inviting. So, embrace the beautiful art of poinsettias at Christmas and enhance the festive charm of your holiday sales!