Introduction: The Elegant and Natural Beauty of Artificial Flower Business and Market Growth
Welcome to our blog, where we explore the latest trends and insights in the artificial flower industry. In today's post, we'll delve into the elegant and natural beauty of artificial fall florals and why they are a must-have for any retailer looking to stay ahead in the game.If you have any questions about artificial fall florals decoration, you can just contact us without hesitation.
Why Artificial Flowers?
Longevity: Artificial flowers last much longer, reducing the frequency of replacement.
Low Maintenance: No need for watering, trimming, or special lighting.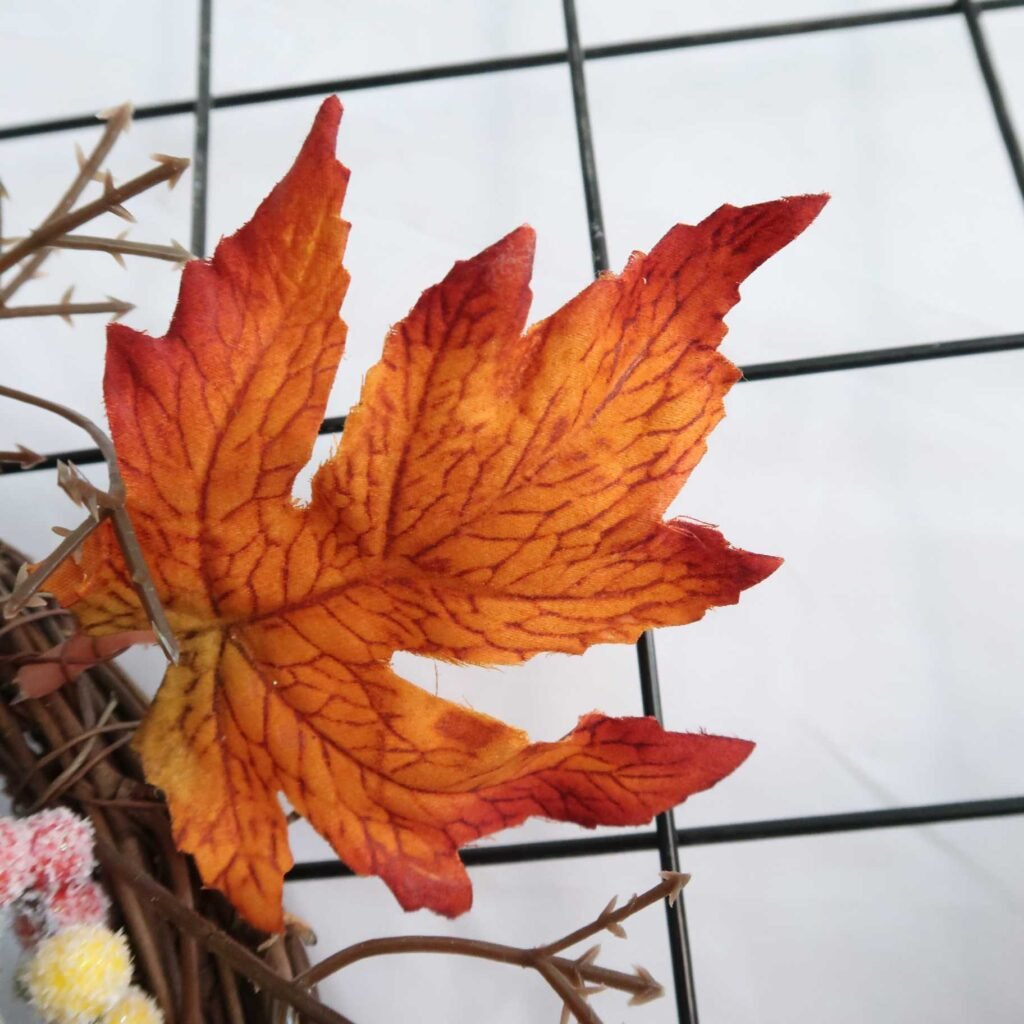 Cost-Effectiveness: Lower total cost of ownership compared to fresh flowers.
Seasonal Flexibility: Available in a variety of types and styles, regardless of the season.
The Importance of Market Trends
Staying updated with market trends is crucial for any business, and the artificial flower industry is no exception.
With the rise of eco-conscious consumers and the demand for durable, long-lasting products, artificial flowers are becoming more than just a seasonal trend. They are a year-round must-have.
The Rise of Artificial Flowers: Fake Flowers vs. Fresh Flowers
The Evolution of Artificial Flowers
Artificial flowers have undergone a significant transformation over the years. Gone are the days when they were considered mere imitations of fresh flowers.
Today, they are crafted with such intricacy and attention to detail that they often rival the beauty of their natural counterparts.
Advances in materials like silk, latex, and even 3D-printing technologies have made it possible to create blooms that not only look real but feel real to the touch.
The Beauty of Fake Flowers
One of the most compelling aspects of artificial flowers is their enduring beauty.
Unlike fresh flowers, which have a limited lifespan, artificial blooms maintain their beauty year-round.
This makes them an ideal choice for retail spaces that require long-lasting decorative accents.
Fresh Flowers: The Traditional Choice
Fresh flowers have always been the traditional choice for floral arrangements, and they offer their own unique charm and fragrance.
However, they come with limitations such as a short lifespan, seasonal availability, and maintenance requirements.
These factors can add operational complexities and costs for retailers.
Why Artificial Flowers Are a Smart Choice for Retailers
Given the limitations of fresh flowers, artificial flowers present a smart alternative for retailers. They offer the following advantages:
Longevity: They last much longer, reducing the frequency of replacement.
Low Maintenance: No need for watering, trimming, or special lighting.
Cost-Effectiveness: Lower total cost of ownership compared to fresh flowers.
Seasonal Flexibility: Available in a variety of types and styles, regardless of the season.
By opting for artificial flowers, retailers can offer a product that is not only beautiful but also practical and cost-effective.
Types of Artificial Fall Floral Decorations: Faux Flowers in Focus
When it comes to decorating for the fall season, the options are endless. Artificial flowers offer a versatile and long-lasting solution for retailers looking to add a touch of autumn to their inventory.
Below are some of the types of artificial fall floral decorations that we offer:
Fall Wreaths: A Welcoming Touch
Table Centerpieces: The Heart of Any Gathering
Garlands: Versatile and Decorative
Potted Arrangements: Convenience Meets Elegance
Hanging Baskets: Elevate Your Outdoor Spaces
Artificial Bouquets: Special Occasions Deserve Special Arrangements
By offering a diverse range of artificial fall floral decorations, retailers can cater to a wide variety of customer needs and preferences. From wreaths to hanging baskets, there's something for everyone.
The Visual Appeal of Fall Floral Decorations: Beautiful Flowers and Bright Decorative Accents
Capturing the Essence of Autumn
One of the standout features of artificial fall florals is their visual appeal. The rich hues of blooms in bright oranges, reds, and yellows capture the essence of autumn, creating a warm and inviting atmosphere. These colors not only resonate with the season but also complement a wide range of home decor styles.
The Beauty of Detail
The intricate designs, realistic petals, and foliage add a touch of elegance to these artificial arrangements. The beauty lies in the details, from the texture of the petals to the arrangement of leaves and stems.
These elements contribute to the overall aesthetic appeal, making them perfect for upscale retail spaces as well as cozy home interiors.
Versatility in Decor
Artificial fall florals offer a level of versatility that is hard to match. Whether you're looking to create a rustic farmhouse vibe or a modern minimalist setting, these bright and beautiful flowers fit seamlessly into various decor styles.
Decorative Accents: More Than Just Flowers
In addition to flowers, artificial fall arrangements often include decorative accents like pinecones, berries, and ribbons.
These accents enhance the bouquet's visual appeal, adding layers of texture and color that elevate the overall design.
Creating Focal Points in Retail Spaces
For retailers, the visual appeal of artificial fall florals can serve as a focal point in store displays. Their bright colors and intricate designs attract customer attention, encouraging closer inspection and, ultimately, purchase.
Sustainability Matters
Why Sustainability is Important
In today's world, sustainability is more than just a buzzword; it's a necessity. Consumers are increasingly looking for eco-friendly options, and retailers need to adapt to meet this demand. Artificial flowers offer a sustainable alternative to fresh flowers, providing beauty and foliage without the environmental impact.
Reusability: A Key Benefit
One of the key benefits of artificial flowers is their reusability. They can be stored and reused for multiple seasons, further reducing their environmental impact.
Meeting Consumer Demand for Eco-Friendly Products
By offering artificial flowers, retailers can meet the growing consumer demand for eco-friendly products. This not only helps in reducing the store's environmental impact but also attracts a more conscious consumer base.
By choosing artificial over fresh flowers, you're not just making a smart business decision; you're also making a responsible environmental choice.
Profit Margins and ROI: Cost-Effective Floral Displays
The Financial Upside of Artificial Flowers
When it comes to retail, every decision impacts the bottom line. Artificial flowers offer a cost-effective solution that can significantly boost profit margins. Here's how:
Lower Operational Costs: Unlike fresh flowers that require constant care and maintenance, artificial flowers are virtually maintenance-free. This translates to lower operational costs, as there's no need for watering, temperature control, or regular replacements.
Higher Return on Investment (ROI): The longevity of artificial flowers means they last longer on the shelves and in consumers' homes. This durability leads to a higher Return on Investment (ROI), making them a financially sound choice for retailers.
Bulk Purchasing and Discounts: Buying artificial flowers in bulk can lead to additional cost savings. Many suppliers, including us, offer bulk discounts, further enhancing the profit margins for retailers.
Meeting Market Demand: The growing market demand for artificial flowers also means that retailers can command competitive prices, especially for high-quality, realistic-looking arrangements.
Seasonal and Year-Round Sales: While artificial fall florals are the focus of this blog, it's worth noting that artificial flowers offer year-round sales potential. From spring blossoms to winter arrangements, there's always a market for beautiful, long-lasting floral decor.
Financial Flexibility: The cost-effectiveness of artificial flowers provides retailers with financial flexibility. Savings can be reinvested into other aspects of the business, such as marketing, thereby driving further growth.
By incorporating artificial flowers into your retail strategy, you're not just adding beauty and elegance to your store; you're also making a financially savvy decision that can positively impact your profit margins.
Conclusion: Why We Are Your Best Choice for High-Quality Artificial Flowers
Quality You Can Trust: We pride ourselves on offering products that are not only beautiful but also crafted to last.
Customization Options: We offer a wide range of customization options, from colors and styles to types of arrangements.
Competitive Pricing: We offer competitive pricing options that cater to various budget requirements.
Eco-Friendly Practices: We adhere to eco-friendly practices in all aspects of our business, from production to packaging.
Exceptional Customer Service: Our customer service team is always on hand to assist you with any queries or concerns.
The future of seasonal retail is here, and artificial fall florals are leading the way. By partnering with us, you're not just making a smart business decision; you're also investing in a sustainable future.
Thank you for reading our blog post. We hope you found it informative and insightful.
If you have any questions or would like to learn more about our range of artificial fall florals, please feel free to contact us.